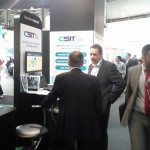 I returned from Barcelona on Friday after a week of lead generation, market positioning research and generally being a booth bloke at Mobile World Congress for my employer The Centre for Secure Information Technology (CSIT), an innovation and knowledge centre specialising in cyber security research based at Queen's University of Belfast.  I have spent the weekend mulling over the experience and trying to distill a few thoughts regarding the Congress which I share here.
There's no austerity or lack of confidence in mobile industry
The GSMAs event attendance figures speak for themselves.  67,000 visitors from 205 countries.  The number of attendees was up 11% on last year.  Business is not just as usual, it's booming.  It is ten years since I was last at MWC with Jinny Software when it was in Cannes.  The growth in that decade has been phenomenal.
The level of investment in stands and presence by exhibitors both large and small exuded a level of confidence in the future of the economy currently not shared by many across this continent.  I have no doubt that the level of investment here will be followed by growth in consumer confidence and spending in the coming years.
Mobile security is gonna be massive next year
This is the first time we at CSIT have exhibited at the event though all three of our commercial team have represented previous employers at it.  While we had a number of pre-arranged meetings lined up beforehand this for us was about dipping the toe in the water of the mobile space and see what turned up.
With limited marketing activity prior to and during the event we were simply astounded by the numbers and calibre of companies and organisations who sought us out at the event based on our "Breakthrough technologies for mobile security" pitch to speak to us about our research into things like Physical Uncloneable Function, ITACA, Intrusion Prevention and SCA.  Our activity there was very targeted – sponsoring the Network Intelligence Alliance networking evening where we could engage with prospective partners and customers away from the hustle and bustle of the halls. This was a great opportunity to raise our profile in a niche area were we can add most value.
Mobile security will be a huge market.  If you are working in this area speak to us.
Its about so much more than mobile
If you are building solutions that communicate over IP protocols you are now a mobile company – you should be at next years Congress.  No excuses.  With the phenomenal growth in smartphones and the advent of FTE, Wimax and other wireless data standards if you are involved in any sort of solution that communicates data you need to be there if only to unearth opportunities which may not be entirely obvious if you only think of it as a mobile trade show.
In the last week we spoke to companies about opportunities in utilities, banking, transportation, satellite communications, fixed line operators, government and more.
It doesn't cost the earth
We exhibited on the Northern Ireland pavilion with a number of other local companies.  The Invest Northern Ireland team did an excellent job in supporting us before and during the week.  It's the perfect mechanism for getting a low(er) cost presence at the event.  Speak to them about going next year.  You can't afford not to be there.