I was asked last week by BBC Good Morning Ulster to come in to the show and talk about the announcements made at Apple's World Wide Developer Conference 2014. You can listen to it again here. Go to 55:50.
As with every media engagement I do I had done my homework the night before and prepared a crib sheet covering all potential areas for discussion which is shared with the show producer in advance so they can brief the presenter and prepare questions for them.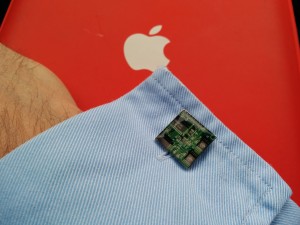 Having done a few of these now the key, in my opinion, is to get to the heart of the "so what" question. What does this mean to the person sitting in their car on their way to work or doing the school run? The trick is to avoid being over technical and to retain a level of company independence or favouritism – especially when contributing to the BBC.
I'm neither pro or anti Apple. While I use an MacBook for personal computing and an Apple iPad for work I also use a Google Nexus 5 phone and a Microsoft Window's laptop for work purposes. It's nice to have this broad level of experience when talking about new product announcements in this space.
The whole experience is definitely a positive one. If you are approached to contribute to programmes such as this I would highly recommend it as it allows you to hone writing and speaking skills for the day job.
In the end time only permitted us to discuss the Family Sharing feature. The full crib sheet is replicated below for those who haven't OD'ed on WWDC commentary yet.
Intro
Apple announces new features that enable family sharing, home automation and our vital signs to be monitored all from our mobile phones.
Family sharing
Apple have announced a new family sharing feature in iOS version 8 for iPhones and iPads. This will allow whole families share and synchronise their photos, calendars and locations with each other.
Great for the busy family to keep track of each other and give parents piece of mind that their kids are where they say they are
Not so great for parents whose phones will be filled to the brim with selfies of their kids
Even worse for kids whose phones will be full of their parents selfies – take note Máirtín Ó Muilleoir's kids
Definitely not good for kids bunking off school
There have been numerous examples of children running up hundreds, if not thousands of pounds of credit card bills due to innocently buying costly add-ons for games through the Apple App Store.
Last year a five year old ran up a bill of £1700 buying costly add-ons for a game called Zombie v Ninja in one ten minute period
Earlier this year Apple was forced to refund at least £20 million to disgruntled parents over in-app purchases made by their kids
Family sharing allows parents to implement tighter controls on App Store spending.
Kids can send App purchase requests to their parents phones when they wish to buy new games or make in app purchases.
Great for parents looking to reign in their kids spending on the Apple App Store
Not so great for some app developers who were making stacks of money from unsuspecting kids
Home automation
The smart home is now a key battle ground for companies like Apple and Google. Google recently bought Nest, a company that makes smart devices such as learning thermostats and intelligent smoke and carbon dioxide detectors for the home which can be controlled from mobile devices for a cool $3.2 billion.
Apples new Home app (HomeKit) allows an iPhone or iPad to control smart appliances, lights and locks around the home.
Partners include Philips, Honeywell and Osram that make a variety of smart widgets and lights
Great if you want to live in the home of the future and command all your home appliances by voice
Not so great when the power goes out.
Health app
HealthKit is a feature and package of tools that will allow developers to build bespoke apps around health and well being, from sleep monitoring and stress reduction to exercise and blood testing.
Great for helping to take pressure off a stretched NHS
Great for early alerting of serious health problems
Great for changing behaviour in unhealthy people
Not so great for couch potatoes
Question marks over patient privacy