I am delighted and honoured that my poem "The dock" was chosen as the winner of the inaugural MATRIX Poetry Competition. I collected the prize on Saturday 5th October 2013 from Poet Laureate Carol Anne Duffy at a reading session she hosted in Derry~Londonderry as as part of Poetry Month and the 2013 City of Culture celebrations.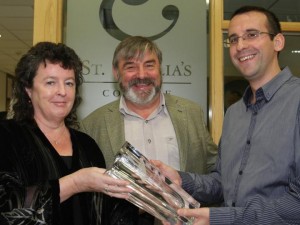 The inaugural competition, which was introduced by MATRIX to highlight the links between science and the arts, was to write a poem about any science related topic.
It was open to those people who study the STEM subjects or work in science/technology based industries. It was judged by Professor Iggy McGovern, Professor of Physics at Trinity College Dublin and award winning poet.
MATRIX, the Northern Ireland Science Industry Panel, is a business led expert panel, formed primarily to advise government, industry and academia on the commercial exploitation of R&D and science and technology in Northern Ireland.
My poem drew inspiration from the sounds, history and future of the area around the Thompson Dry Dock which my office overlooks.  It also draws parallels between the heavy engineering that the shipyard area was known for and the future, driven by research and development, carried out at my place of work – the ECIT Institute.
The motivation for writing the poem is simple. MATRIX Chair Bryan Keating asked me to. Sometimes being asked to do something is motivation enough.
My poem:
The dock
The sound of hammering and clanging ringing out from the dock
Regularly drifts in the sea breeze through my window.
This recording a remembrance of ocean liners engineered
In Belfast's mighty shipyards once spread out below.
Now in this furnace of technology, an Institute of the future,
Researchers secure the digital tomorrow for one and all.
Transportation of a different kind their focus; of data and knowledge.
The brains of this nation answering Queen's Island call.
For through science our pride will be restored once more,
Technology despatched through new venture creation.
Lessons learned, skills honed, motivation unsinkable
Let's doff a duncher to this foundry of innovation.

"The Dock" by David Crozier is licensed under a Creative Commons Attribution-NonCommercial-NoDerivs 3.0 Unported License.
Based on a work at http://www.davidcrozier.co.uk/2013/10/07/the-dock/